2013 Harvest Report, Part 1: The South
As autumn rolls around, many of us begin to notice the leaves beginning to turn rust red and the weather taking its annual turn for the worse. In wine country all over the Northern Hemisphere, however, one thought dominates: harvest, the critical period in which a year's worth of work is validated or erased; the climax of the grape-growing season. As our wine-growing friends abroad are now picking the final clusters from their respective vineyards, the quality of vintage 2013 is slowly coming into focus. Today's harvest report will focus on the south of France: the Rhône, Languedoc, and Provence.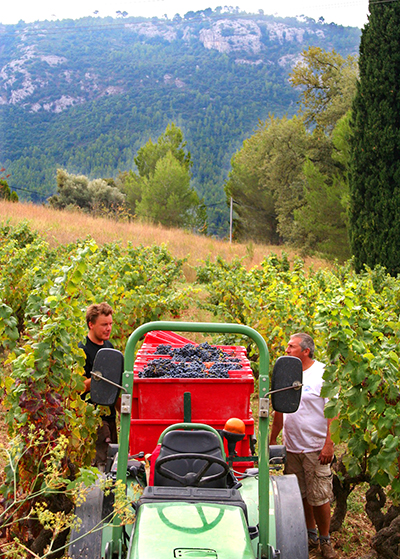 Harvest at Domaine Tempier
The growing season began with uncertainty as a cool, rainy spring slowed maturation considerably. These unusual conditions persisted through the beginning of summer, posing some concerns in the vineyard. "Frequent rainfall through mid-June allowed mildew to develop and we had to be very vigilant," states Daniel Ravier, vigneron at Domaine Tempier. Fortunately, the summer heat finally kicked in and alleviated many a vigneron's stress. Pierre Ravaille at Ermitage du Pic Saint Loup was especially relieved at the favorable conditions: "Sun and heat arrived in mid-June and summer was hot. The vines matured well without any water shortage." Despite a late start, results seem positive across the board. Harvest took place without any major obstacles and initial assessments confirm a relatively good year, in spite of below average yields. Reynald Delille at Domaine de Terrebrune expresses his satisfaction as the harvest wraps up: "We are presently bringing in very nice Mourvèdre for the reds: good ripeness, small, dense clusters, and great quality of the skins. A very good year is shaping up, unfortunately with 15% less quantity." Not too far north, in the southern Rhône, the verdict is a similar one. According to Henri Leydier at Domaine de Durban, "This vintage is unusual not for its quality, which should be quite good, but for its quantity: Grenache, the main variety in Côtes du Rhône, suffered coulure at flowering like never before. The result is a production cut in two! As we all know, a vigneron depends on weather and climate."
 Harvest at Domaine de Durban
While it is too early to say how 2013 will compare to other recent years, first impressions foresee a favorable outcome. While quantity may be lower than usual in the South, we can eagerly await to taste the first 2013s with positive expectations. In the meantime, we'll let those yeasts get to work and leave our vigneron friends to operate their magic in the cellars.
To be continued…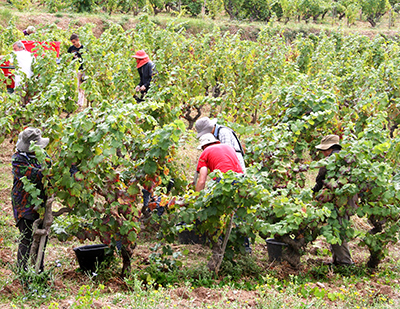 Domaine Tempier