Adventures, Celebrating 25 Years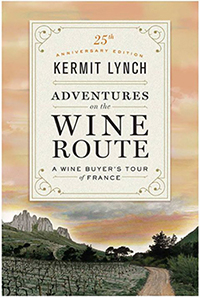 Twenty-five years after the original publication, Kermit revisits Adventures on the Wine Route. In this 25th Anniversary Edition, he looks back on how his business and the wine industry has changed since the 1980s. Kermit has brought the narrative up-to-date with an extended epilogue, delving into new trends: natural wine, the importance of sommeliers, and influence of the press; as well as reflecting on where the vignerons and domaines from the past have now ended up.
Today marks the release date of this new edition and we hope you find it as entertaining and informative as the first.
-Purchase from the source: (510) 524-1524
-Purchase on amazon.com