July Newsletter: Staff Selections, Domaine Tempier P-A, New Arrivals from Corsica
The July newsletter is now available. Click here to download the pdf. Highlights from this month's newsletter…
PRE–ARRIVAL OFFER 
2012 DOMAINE TEMPIER
by Kermit Lynch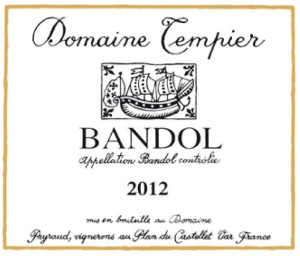 Today was my first visit of the year to Domaine Tempier. Down in the cellar, Daniel Ravier pulled tastes of the 2012 from their foudres, because they are not yet in bottle. Meeting the 2012s was like meeting an old friend—their 1979, to be specific, which made good drinking from the start. I recall the 1979 served cool in carafes for a bouillabaisse feast during the wine's first summer. It was good right after the bottling, too, and at least in magnums, it is still good today at thirty-five years old. Not bad! Our 2012 is also a medium-bodied vintage, generously flavored, a real charmer. Even Cabassaou, which can be pretty tough and square-edged when young, is easy on the palate.
Then at 11:30 I met Lulu Peyraud for an apéritif—Lulu, who at ninety-six claims that she doesn't drink water. At all. Never. She says she prefers red wine. I asked if she didn't keep some Vittel or Evian hidden around the house to take a swig or two, you know, when no one is looking. And I wondered aloud, "Why, Lulu, why never a glass of water?"
"I don't want to get rusty," she said.
And as for the three 2012 cuvées spéciales, I'll wait a few years before attacking them, but I'll have several classiques for drinking cool during summer 2015.
| | |
| --- | --- |
| | per case |
| 2012 Bandol "Classique" | $456.00 |
| 2012 Bandol "La Migoua" | 660.00 |
| 2012 Bandol "La Tourtine" | 660.00 |
| 2012 Bandol "Cabassaou" | 984.00 |
 2013 BANDOL ROSÉ IS HERE!
by Anthony Lynch
DOMAINE DE LA TOUR DU BON
First, you'll notice the beautiful color of Agnès Henry's 2013: it conveys the depth of flavor to be found in this excellent dry rosé. Very elegant, with subtle accents of garrigue, it is also our most affordable Bandol rosé at this time.
$30.00 per bottle $324.00 per case
DOMAINE DU GROS 'NORÉ
Alain Pascal's rosé seems to inevitably top last year's version. While he is best known for his big, rustic, macho reds, his wines—in all colors—have recently begun to show an increased sense of finesse. In fact, his rosé in 2013 is notably delicate, quite the opposite of what one might expect given the wild, beastly reds he has produced in vintages past. It is lively and fresh, expressing not bananas but all those Provençal flavors that drive us bananas.
$32.00 per bottle $345.60 per case
DOMAINE TEMPIER
They say great wine is evocative of place. With Tempier rosé, all it takes is one sniff to be carried back to Provence, conceiving a dreamy fantasy of sunshine and ice-cold pink wine. Suddenly we are in the shade of a massive umbrella pine tree at Domaine Tempier, refreshed by a soothing breeze and generous sips of rosé. The cigales chirp buzzingly in the background, while the sound of laughter complements their constant hum. Your glass of Bandol, evocative of rosemary, ripe peaches, and citrus, is the perfect elixir to wash down the assortment of snacks that has spontaneously materialized: garlic-rubbed toasts with cured anchovies, olives marinated in herb-infused oil, and slices of salty saucisson. This is what Tempier rosé is all about—celebration, gaiety, and delicious simplicity.
$40.00 per bottle $432.00 per case
The Mediterranean at Cassis      © Gail Skoff