November Newsletter: Jules Chauvet Revisited, New Arrivals from Benevelli, Alsatian Riesling, Champagne Sale!
The November newsletter is now available.
Click here to download the pdf.
Highlights from this month's newsletter…
2014 BEAUJOLAIS NOUVEAU
NOUVEAU IN BERKELEY
What is it that gets us excited each year for the arrival of Beaujolais Nouveau? Is it foggy memories of Nouveau celebrations from the past? NO! It is the yearly update we receive from our winemakers, whose enthusiasm is nearly overwhelming. Here's what we heard this year from Domaine Dupeuble:
The small quantity of grapes and a good concentration in the berries gave the wine its lovely deep red color, aromas of blackberries and currants, lifted by subtle spicy notes with silky tannins. We can't wait to have you taste it!
The wine arrives in the shop on Thursday, November 20. We'll sell it by the bottle and the case. If you'd like a glass, head next door to Bartavelle Coffee and Wine Bar. Give us a call anytime this month to secure some Nouveau for yourself and we'll have it ready to be picked up or shipped on the 20th.
NOUVEAU AROUND THE NATION
Not in Berkeley? That's okay because our Nouveau is sold in many states. Visit the webpage below for a list of retailers around the nation who will carry the wine starting Thursday, November 20.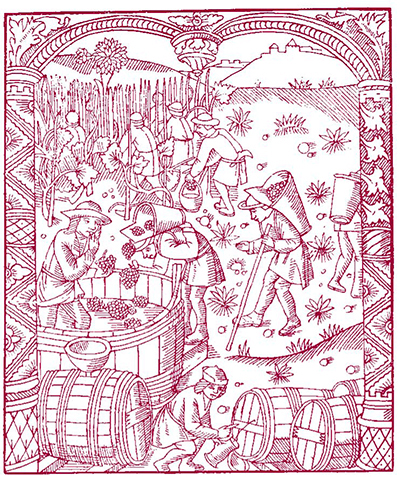 BENEVELLI PIERO
by Julia Issleib
Earlier this year, during my first trip across the Alps in a decade, my conversational skills in Italian were quite limited. So I stuck to nodding, smiling, and the occasional "Sì, sì," "Esattamente," "Benissimo," "Delizioso." I kept "È veramente buonissimo!" for special occasions.
My visit to Benevelli in cold and foggy Monforte d'Alba with winemaker Massimo Benevelli was one of those. After a rather shy welcome from under his woolen hat, pulled down to his eyebrows, he quickly opened up while showing me around the vineyards and the cellar. He is as passionate as he is humble. More approachable than some Piedmont reds you may have encountered, his wines are delicate and elegant, yet deeply rooted in the terroir and full of character.
2013 DOLCETTO D'ALBA "LA COSTA"
Dolcetto—the little sweet one—is a reference to the low acidity of this variety. And yet the crunchy tannins equally typical of the grape guarantee structure and freshness. Thanks to the absence of wood in the winemaking, this Dolcetto keeps its red fruit character and will be perfect to start a meal alongside fresh antipasti, beef carpaccio, or vitello tonnato.
$17.00 per bottle $183.60 per case
2013 LANGHE NEBBIOLO
What Bourgogne Pinot Noir is to great red crus of Burgundy, Langhe Nebbiolo is to Barolo—you should buy a case while you wait for the Baroli in your cellar to be ready to drink. Benevelli's version is floral and supple. As Massimo explains, given its strong tannic structure, Nebbiolo shows the best results in cooler years. In hot years, tannins might overpower the soft nature of the grape. Guess what? Esattamente—2013 was a cool year!
$22.00 per bottle $237.60 per case
2010 BAROLO "RAVERA"
Beautifully balanced, with an intense nose, this 2010 is quite approachable for a young Barolo. Nonetheless, by the time this exquisite creature will fully express itself, my Italian will have vastly improved. Even then, I will probably simply utter, "Veramente buonissimo!"
$49.00 per bottle $529.20 per case