Vibrant Wines from a Remote Terroir
Drive to Irouléguy and you will find yourself in one of France's smallest wine appellations, as well as one of its most remote and intriguing. This is Basque country, in the heart of the Pyrenees, and it feels drastically removed from the rest of France due to its unique culture and landscape. Just north of the Spanish border and thirty miles from the Atlantic coast, these mountains create a very distinctive terroir. The vineyards, planted on slopes that reach vertigo-inducing gradients, soak up plenty of southern sun, moderated by the humid, cooling influences of mountain air and the nearby ocean.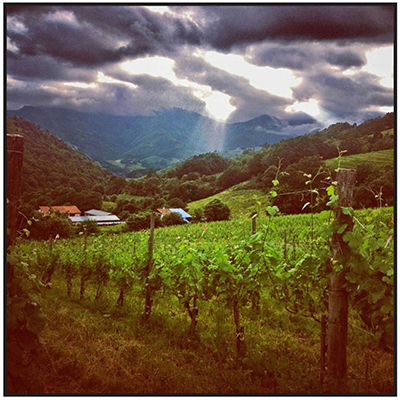 It takes a great vigneron to make a grand terroir speak, and Michel and Thérèse Riouspeyrous are perfect for the job. Strong advocates of organic and biodynamic agriculture, they craft incredibly vibrant wines that genuinely express their Basque origins. While produced in minute quantities, they represent some of the most exciting, singular wines being made in France—wines that tell a story about a land and a people.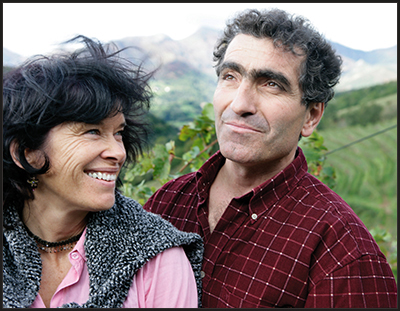 While most Irouléguy is red, its rare whites are well worth seeking out. Michel and Thérèse's "Hegoxuri" bottling (pronounced eggo-shoo-ree, Basque for White of the South) is an excellent starting point, delivering nerve and minerality along with aromas of ripe lemon, white flowers, and green almond. A blend of Gros Manseng, Petit Manseng, and Petit Courbu, this white comes from three distinct terroirs: sandstone, schist, and a rare rock of volcanic origin known as ophite, rich in serpentine and magnesium. The Riouspeyrous have recently begun to bottle a selection from each terroir separately so as to highlight the effects of the different soil types. These whites are fermented with native yeasts in wood and aged for a year in large foudres, then aged for another 18 months in bottle. The result is a tour de force that delivers more than one could imagine from this remote mountain appellation. Rich and powerful yet completely electric, showing energy, tonicity, and an intense mineral foundation, these whites are not to be missed. Delicious now, their potential to improve with age will astound anyone willing to try.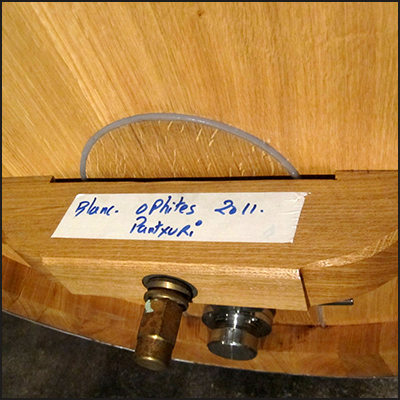 The domaine's red wines, composed of Tannat, Cabernet Franc, and Cabernet Sauvignon, also represent a unique expression of this terroir. Black in color, earthy, and laden with dark fruit and spice, these wines balance grippy tannin with fresh acidity. They are bottled unfined and unfiltered to retain all their purity and flesh. The Irouléguy rouge bottling, raised in cement vats, is tremendously bright with a modest alcohol level, while "Haitza" is bigger game, a barrel-age titan that will stand the test of time. These are serious wines unlike anything else out there and are a must-try for any curious wine drinker. Eskerriska!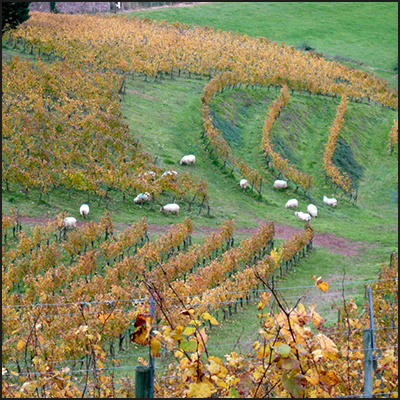 Please email [email protected] or call 510-524-1524 to inquire for availability of wines.
2013 IROULÉGUY BLANC "HEGOXURI" $46.00 per bottle
60% Gros Manseng, 35% Petit Manseng, 5% Petit Courbu
2012 IROULÉGUY BLANC "PANTXURI" $60.00 per bottle
60% Gros Manseng, 40% Petit Manseng
2012 IROULÉGUY BLANC "SCHISTES" $60.00 per bottle
60% Gros Manseng, 35% Petit Manseng, 5% Petit Courbu
2012 IROULÉGUY ROUGE $30.00 per bottle
66% Tannat, 17% Cabernet Franc, 17% Cabernet Sauvignon
2011 IROULÉGUY ROUGE "HAITZA" $46.00 per bottle
70% Tannat, 30% Cabernet Sauvignon