A for Alsace
by Julia Issleib, Beaune Office Manager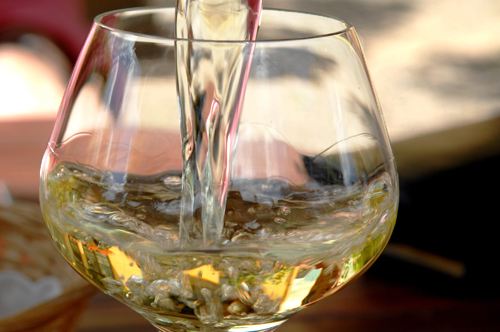 Let me be frank: Alsace rarely comes to my mind as the solution to the dilemma "What should we drink?" I'm a bit intimidated by the region's complexity and variety, its many styles of wines and appellations. Yet, when I think back, I cannot remember a single time when an Alsatian bottle (de qualité, bien sûr) was a disappointment and didn't go delightfully with the food.
So why not reach for Alsace more often? Put it back in its natural place at the top of the wine alphabet. We like to praise a wine region's versatility, how there's "something for everyone." Nowhere is that more true than in Alsace.
2014 GENTIL D'ALSACE • MEYER-FONNÉ >
Clearly, this Gentil is named after the older meaning of the word—noble. And noble it is: Riesling makes up 50% of the 2014, and 25% is Muscat. The nose is elegant and chalky, on a delicate base of rose petals. But it's the palate of lychees, yellow raspberries, and chamomile that shows the full complexity of this dry, linear wine. You and your guests might forget your noble upbringing and fight over the last pour in the bottle. My solution: buy a case.
$18.00 per bottle $194.40 per case
2014 PINOT BLANC "BARRIQUES"
DOMAINE OSTERTAG >
Pinot Blanc is not considered one of the "noble" varieties in Alsace. Leave it to André Ostertag to give it the royal treatment in homage to its Burgundian origin. Indeed, this cuvée is aged in barrels, allowing the equal blend of Pinot Blanc and Auxerrois to develop unexpected power. The nose is delicately buttery, the palate rich; yellow peach and white flowers lead to a smoky finish.
$26.00 per bottle $280.80 per case
2013 RIESLING GRAND CRU
BRAND "KIRCHBERG" • ALBERT BOXLER >
One whiff of this might make you want to plunge right into the glass. Once the wine hits your tongue . . . Nope, zingy lemon, delicate white flowers, rich mineral backbone, beautiful mouthwatering finish, incredible length . . . (though all true) will not come close to summing up the experience of enjoying this wine. How's "Buy as much as you can get" for a tasting note? It's a classic!
$85.00 per bottle $918.00 per case